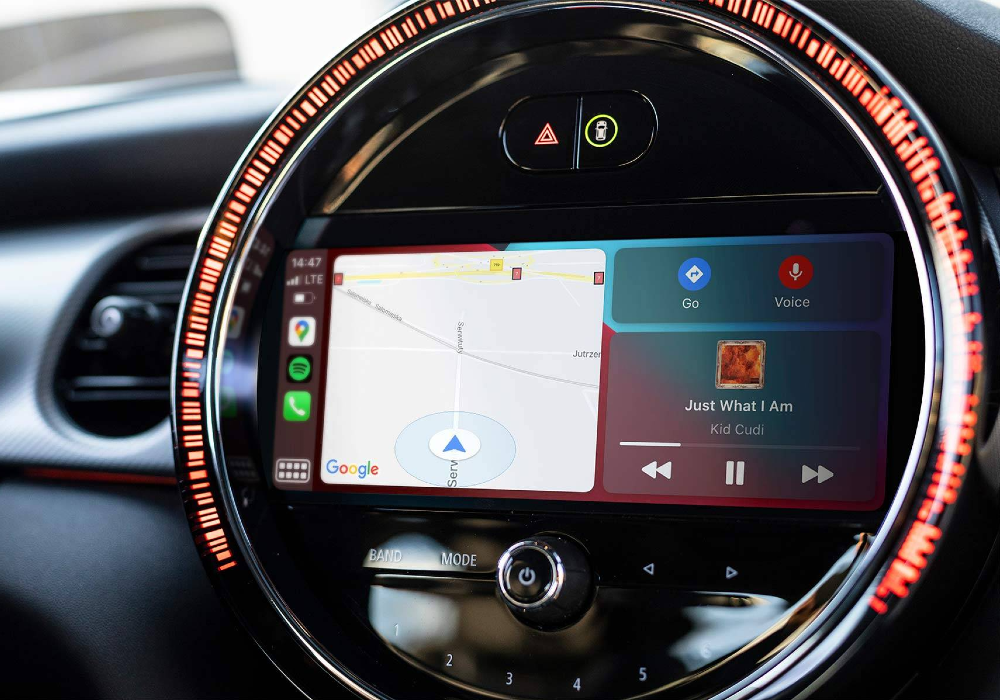 The next version of the Mini Cooper brings incredible tech upgrades and classic exterior design. The 2025 model brings a tech-forward approach to the cabin.
Mini is still working out the details of exterior style, but we can expect this new car to resemble the classic models wearing the brand name. That said, we have a much better idea of what's going on in the cabin than ever before. This new Cooper loses the classic look of analog instrumentation in favor of more tech and high-end features that bring this car into the modern era.
A New Infotainment Screen from Mini
The new Cooper interior features a large 9.4-inch infotainment display screen mounted in the middle of the dashboard. This new screen operates a system called the Mini Interaction Unit and provides all desired driving information to keep the driver informed while behind the wheel. This new screen brings nine different layouts to the car. Mini calls these different presentations "experiences," with each one offering different colors and designs. Regardless of the experience chosen, key information is in the same place, offering some consistency to your drive. This makes it easy for you to have the look and information desired.
This new information screen offers climate control and speed along the outer edge of the circular screen, with the inner circle providing the changing layout based on the custom experience desired. You could put the Mini Cooper's screen in Go-Kart mode, and it becomes a massive speedometer while the Green mode gives you efficiency figures. As expected of modern-day electronics, there's a Personal mode for this screen that allows you to customize the screen to your desires. You can even upload a picture to the background when using Personal mode, which gives you a view you want to see while driving.
This new Screen Is Fast
Looks are one thing, but functionality is another. Although Mini hasn't always emphasized functionality in its vehicles, this new screen, running the new Mini Operating System 9, was developed to be fast and extremely useful. The operating system is based on the Android Open Source Project, which helps Mini handle its cloud-based navigation and Connected Store. This new Mini infotainment system brings a cool new feature you'll want to enjoy called AirConsole.
It shouldn't surprise anyone that Mini would have similar tech and features as BMW, Mini's parent company. The new Mini AirConsole feature is just like BMW's AirConsole. This enables occupants in a car to play video games on the screen. This feature can't be activated while driving, but when in park, waiting for your kids to finish practice, relaxing while enjoying your lunch, or waiting for your passengers to get done in the gas station on a road trip, this feature can be fun. You can play alone or with friends using smartphones in the car with some great games and puzzles that should be a lot of fun. Now you don't have to sit and be bored while waiting for your passengers to arrive.
Does Mini Offer The Right Connectivity?
Some automakers, including BMW and Mini, have avoided adding some connectivity features in vehicles. This new infotainment system going in the next-gen Mini Cooper includes the benefits of Apple CarPlay and Android Auto. These connectivity features are ideal when you want to enjoy staying connected while using features from your phone on the screen. You might not care about playing games on the AirConsole feature or the various screen views offered, but you probably use these connectivity items regularly. Having the in the new Mini is important to your future driving experiences.
Styling Stays Quirky
The quirky interior styling offered in the Cooper lineup stays consistent with classic models and will likely carry over into the next-gen version arriving in 2025. This new Mini promises a strong blend of old and new, giving us a style and shape we're familiar with while adding some great tech items to make it modern and inviting. Its nice to see this brand isn't shuttering all of its classic features and styling in favor of the new and modern.
Now that we know about the new infotainment screen offered in the upcoming Mini Cooper, we can look forward to what the team is doing to upgrade the exterior design elements of this attractive British car. The Cooper has been a symbol of classic styling for several decades; don't expect a departure from the classic design elements and features that have made Mini ubiquitous with British driving excellence.
This post may contain affiliate links. Meaning a commission is given should you decide to make a purchase through these links, at no cost to you. All products shown are researched and tested to give an accurate review for you.