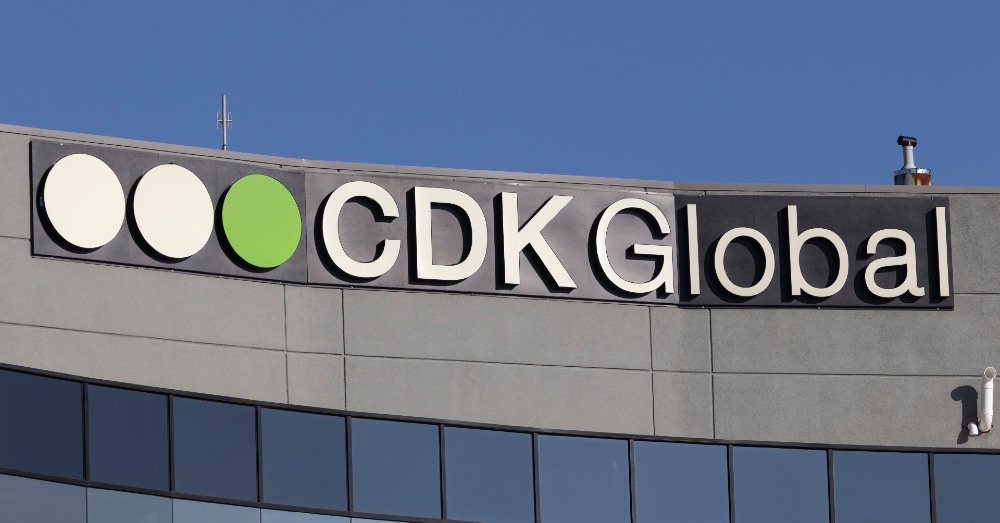 Brookfield Business Partners is an investment firm that recently purchased CDK Global Inc., changing a bit of what the dealership technology company offers.
Many car dealership groups around the world utilize the CDK platform for content management, lead generation, inventory tracking, etc. If a dealership has a tech need, the CDK platform offers a solution to ensure the need is met. As a publicly traded company, there were some limitations to what this company could offer. Some of those limitations are lifted with this new purchase as the company will now operate under new leadership.
How Much Did CDK Cost Brookfield?
This new acquisition came with a price tag of nearly $8.7 billion. The agreement of this sale dates back to April when CDK agreed to the deal and sale to Brookfield Business Partners. Until this sale was finalized, CDK was a publicly traded company. With this sale, shareholders received $54.87 per share, which is a 30 percent premium to the closing price from February 18. This date may be several months in the past, but it represents the final full day of trading before market speculation about the potential sale began to impact the share price on the Nasdaq exchange.
You Won't Find CDK on the Exchange
CDK Global is no longer a publicly traded company, as announced during its regulatory filing, which notified Nasdaq of the transaction and sale to Brookfield. Trading of this stock was suspended prior to the completion of the sale, ensuring a smooth and seamless transition to the new company. The deal is final, and many changes are in store for CDK and its leadership. This dealership tech company brought an attractive business model to Brookfield, which completed the purchase and can move forward with a bit more flexibility.
Why Did Brookfield Acquire CDK?
CDK delivers a recurring, subscription-based revenue stream to the automotive dealership market, which makes it a fantastic platform to bring profits and versatility in the automotive online marketing world to its new owner. Brookfield sees this platform as a fantastic foundation for them to expand the meaningful value of this company and improve the overall value. This acquisition allows Brookfield to grow its technology footprint and leverage operating capabilities to grow its track record with some of the best-in-class service and innovation. These are the goals, according to Doug Bayerd, Brookfield Business Partners' managing director.
What Happens to the Leadership at CDK Global?
As with most acquisitions, the board of directors, including the CEO, will no longer hold their current positions. When the transaction was completed, all resigned from their positions, which was in accordance with the regulatory filing of this acquisition. We don't yet know if the board will continue operating in their positions until the filing period and merger of these two companies, but that's certainly possible. This means entirely new leadership for CDK Global as it becomes part of Brookfield Business Partners and operates under the new leadership structure.
Will this Change Make Things More Difficult for Dealerships?
Certainly, you should expect that most auto dealerships using the CDK Global platform have a vested interest in this leadership change and acquisition. With new leadership at the top, some will wonder how much, if at all, the platform and its usefulness will change. So far, we know that Brookfield shares the interests in technology innovation which has been part of what CDK delivers. The changes coming from the Brookfield leadership likely won't be realized for many months or a few years from now, which means most customers won't need to worry immediately about any changes coming from this acquisition.
Added Versatility and Creativity as a Private Company
One of the most important aspects of this new deal is that the CDK platform can be filled with more agile movement and innovation than ever before. The CDK Global vision has been to connect the industry on every level possible, which might have been a limitation as a publicly traded company. Adding the support and leadership of Brookfield, the resources and flexibility to serve more customers on a greater scale are present. The growth of CDK could be astronomic as a private company that now faces fewer limitations during operations.
CDK Was On Its Way to a Broadened Scope
Before the acquisition and through its movement to Brookfield, CDK was already on its way to creating a larger portfolio and expanding it reach. The dealership software tools are only one aspect of what this platform offers. As of last year, the company had added Roadster and Salty Dot to the mix. Salty Dot is an insurance technology company that enables consumers to buy auto insurance when they buy a vehicle, which is a huge hurdle some customers face at dealerships. If consumers visit a dealership that uses CDK Global products, that hurdle is gone, and they can drive away with a new vehicle and the required insurance coverage.
What Should We Expect to See from this Acquisition?
Should we see Brookfield grab a few more companies to pair with the CDK platform and offer even more flexibility for dealerships and consumers? Will this new purchase become only a revenue stream for Brookfield? There will likely be some serious changes in store unless much of the CDK Global leadership is retained and allowed to continue on a path of greater innovation for the company. Those changes might not be bad, but they could take CDK in a different direction than the previous leadership team anticipated.
We'll have to watch and see how this new format for CDK changes things for auto dealers that use the CDK platform. This acquisition could bring more of what most dealership groups ask for with the added flexibility of being a private company.
This post may contain affiliate links. Meaning a commission is given should you decide to make a purchase through these links, at no cost to you. All products shown are researched and tested to give an accurate review for you.