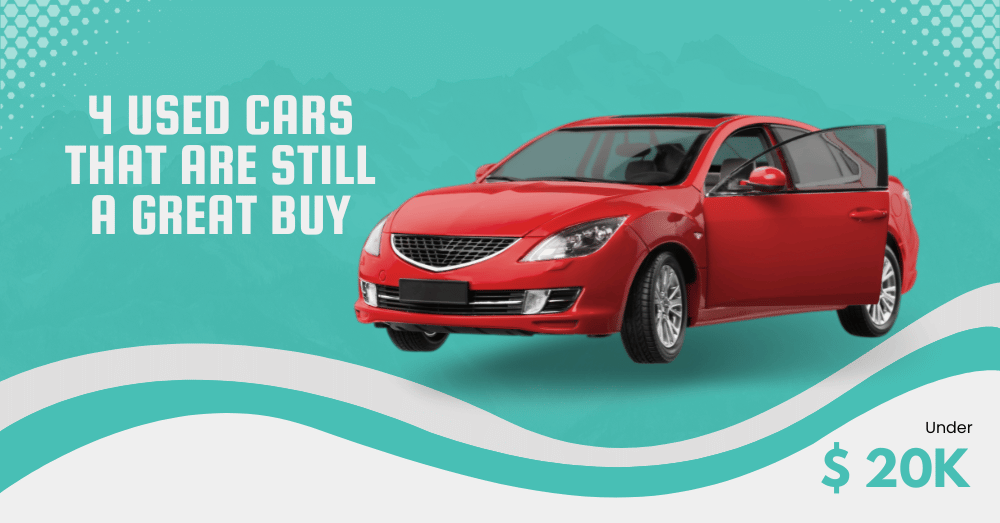 Shopping for used vehicles is one of the best ways to save big on your next car purchase. But with all the options available, it can be a little overwhelming to narrow down the best choice. Today, we'll take a look at four used cars that are still a great buy. Along with offering a dependable powertrain and comfortable cabin, you can shop all of these used vehicles at or under $20,000. Read on to discover which used car is best suited for your busy life.
Yes, You CAN Find Great, Affordable Used Cars
With the cost of new cars rising to new heights and the wild fluctuations in pre-owned car prices, finding quality used vehicles on a tight budget may seem like a tall order. But with a bit of research—and patience—you'll find your perfect, affordable car.
2018 Honda Accord
The 2018 Honda Accord can be a great vehicle for families looking to add another sedan to their family or for new drivers who need a dependable used car. The Accord has been one of the brand's best-selling models because of its dependability, performance, and downright affordability.
The 2018 model is available in several trims, with the midlevel EX-L trim offering luxury touches, including a head-up display, heated seats, and a push-button gear selector. The EX-L with Navigation adds an updated navigation system, while luxury and comfort are on full display with the Touring model. This model year offers two engine options; a turbocharged 1.5 L or turbocharged 2.0 L unit. There's also an available hybrid variation for greater fuel efficiency.
2019 Toyota Camry
Discover the magic of a Toyota Camry by shopping for 2018 or 2019 models. Despite being several years behind the current cycle, these model years offer modern features today's drivers command. The Camry exemplifies fuel efficiency, affordability, and dependability and remains to be the Honda Accord's biggest rival.
You'll find a number of trims all hovering right around or just under the $20,000 mark. Notable features of the Camry during these model years include bold styling accents, a standard 7-in touchscreen in the lower models, smartphone connectivity, and navigation via Toyota's Scout GPS Link App. For new drivers, the Camry is also an exceptional pick because of its comprehensive safety suite, Toyota Safety Sense. Drive with confidence thanks to a number of driver assists, including pedestrian detection, dynamic radar cruise control, lane departure alert, and other great features.
2019 Hyundai Sonata
Hyundai has been a notable contender in the mid-size sedan market. The Sonata is known for its upscale design, comfortable cabin, and elegant body styling. 2019 models of the Sonata offer all the tech features drivers want these days. Plus, when you shop these used vehicles, you won't have to pay an upcharge for these modern features. Enjoy wireless charging, navigation control, and advanced safety features.
You'll also find a number of great comfort features, including a heated steering wheel, dual climate controls, a flat-bottom steering wheel in the sports model, and available leather bolsters and contrast stitching. The Sonata is also offered in four dependable engine options allowing you to enjoy impressive fuel economy ranging from 26 to 31 combined MPG.
2020 Mazda3
If you're looking for absolute affordability, but want one of the more modern used vehicles in today's auto market, then the 2020 Mazda3 might be a great fit. The 2020 model is still new enough that no one would know better that you're driving a used vehicle, yet old enough that you can still enjoy the financial perks of buying a car a couple of years behind the current cycle.
The Mazda3 is known for its exceptional drive and handling, sleek body style, and comfortable cabin. You'll find a number of great safety features, including the i-ActivSense driver-assist suite, which comes standard on all 2020 trims. Other notable features include an 8.8-inch Mazda Connect infotainment system, a push-start button, rain-sensing wipers, and a rearview mirror. Fuel efficiency is also quite impressive, with a combined fuel economy of 30 mpg.
Four Used Cars Worth a Look
If you need a new-to-you set of wheels and feel overwhelmed at the thought of shopping for used cars, this list is a good starting point. All four of these are newer-model cars, and you should be able to get a comprehensive history report on each one. As always, be diligent when looking at used vehicles, and don't hesitate to ask for expert help to inspect for potential problems.
This post may contain affiliate links. Meaning a commission is given should you decide to make a purchase through these links, at no cost to you. All products shown are researched and tested to give an accurate review for you.