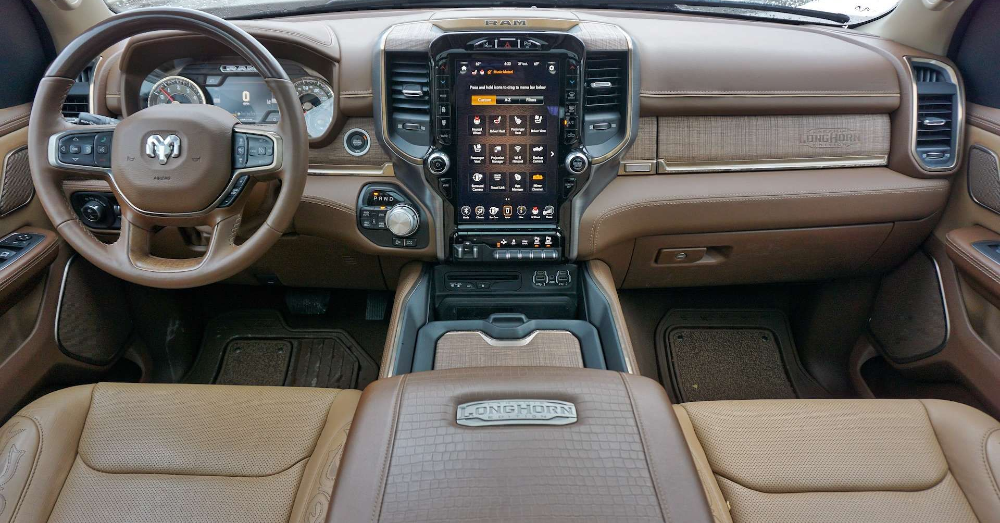 Pickup trucks are made to haul and carry heavy loads. These vehicles weren't meant for comfort, but these five truck interiors tell us different.
When you want a smooth drive, high-class materials, and a quality feeling out on the road, you'll be glad to take one of these trucks out for a great ride. Whether its because they add leather upholstery to the seats, offer lots of room for a whole work crew to enjoy the drive, or they have the equipment needed to make the drive much smoother, these trucks have the cabin area you're looking for.
Chevrolet Silverado 2500HD High Country
Not only is the interior of this truck at the top of the lineup with the High Country trim, but this truck is also a heavy-duty model that can deliver more power for driving and towing the way you want. This version of the Chevy truck brings you the comfort of perforated leather upholstery, heated and ventilated front seats, a memory system to set your seats and mirrors where you want, and a set of heated rear seats. The steering wheel is also heated to make your hands comfortable when you grab onto it in the winter when it's cold.
A few added items help this truck be the performer you want when you've got to pull a heavy load. The standard Hitch Guidance and Hitch View system make it easier for you to tow a heavy load. When looking for one of the best truck interiors, you'll enjoy the HD surround-view camera system with two trailer views and an impressive 8.0-inch touchscreen. Get connected, tow a heavy load, and stay comfortable when you're behind the wheel of this Chevy truck.
GMC Sierra 2500HD Denali
For many years, the Denali trim of the GMC Sierra lineup has represented the luxury level of driving. While some other trucks have caught up to the Denali trim, none have surpassed it yet . The GMC brings you much of the same features as the Chevy truck, which makes it easy for the Sierra to give you the high-quality drive you're looking for. The cabin of the Denali trim is filled with upscale materials including Forge perforated leather upholstery, premium tufted carpeting, and a few other luxury features.
You'll have plenty of peace of mind when you drive this big GMC truck. This truck brings safety and driver assistance items that include trailering functions, an off-road package, and tow different driver alert packages. You'll be glad to get inside this truck and know that it feels posh, comfortable, and will alert you when something isn't quite right during your drive. Step inside this GMC and know that it delivers one of the best truck interiors in the market.
Nissan Titan Platinum Reserve
The Nissan Titan isn't the most popular truck in the market, but the Platinum Reserve trim brings you a fantastic package of features and materials that make this truck one that you'll love to drive. If you're after some serious comfort in the cabin, you'll be glad to get in and feel the Zero Gravity seats of the Titan Platinum Reserve. This might be enough to put this truck on your list, but there are more items to make this truck one you'll want to drive every day.
At the Platinum Reserve level, the Nissan Titan comes to the market with the second largest infotainment scree in this list. This screen measures nine inches and it comes with Apple CarPlay and Android Auto connectivity. You'll find your way with the navigation system and enjoy the sounds coming out of the Fender 12-speaker audio system. You can easily activate any of the systems in this Nissan using the voice recognition system. The Nissan Titan brings you a complete package that gives you one of the best truck interiors in the market.
Ford F-150 King Ranch


The King Ranch trim might not even be the highest trim in the Ford F-150 lineup, but it offers you an excellent package of features that make it comfortable and impressive on the road. The King Ranch version delivers a Western theme with special colors and trim pieces to make this truck one you'll love to drive. When you need to pull a trailer, the Pro Trailer Backup Assist system allows you to put a trailer where you want without much trouble at all.
A special item in this Ford truck is the power-retractable gear shift lever. This item folds into the center console to make the armrest more comfortable when you're driving this truck. You'll also find a flat work surface, impressive leather upholstery, and the benefits of the Max Recline seats which are great for taking a nap when you're waiting for someone in your truck. This complete package certainly makes for one of the most impressive truck interiors you'll find when you're ready to take this truck out on the road for some fun during your drive.
Ram 1500 Limited Longhorn
The Ram 1500 Limited Longhorn has won many awards for the amazing package of materials offered in the cabin and throughout this truck. This tip model delivers impressive leather upholstery, heated and cooled seats, an optional panoramic sunroof, the best infotainment system in the market. This trim delivers you the largest screen as well at 12 inches in size to make it easy for you to see every icon you need to use when you're driving this amazing truck.
Not only will you have one of the best truck interiors in this Ram 1500, but you can also have the benefits of excellent power for the drive. If you move up to one of the heavy-duty Ram models, you'll still have the option of the Limited Longhorn trim in the Ram 2500 and Ram 3500 models that deliver excellent towing power. This means you can have everything you want in one truck. If you're looking for a seriously comfortable truck and you want to enjoy pulling your big travel trailer with you, this is the right truck for you.
With so many amazing truck interiors in the market, you'll find the right truck to drive. Which pickup is the one that you'll use for taking everything where you want to go?
This post may contain affiliate links. Meaning a commission is given should you decide to make a purchase through these links, at no cost to you. All products shown are researched and tested to give an accurate review for you.