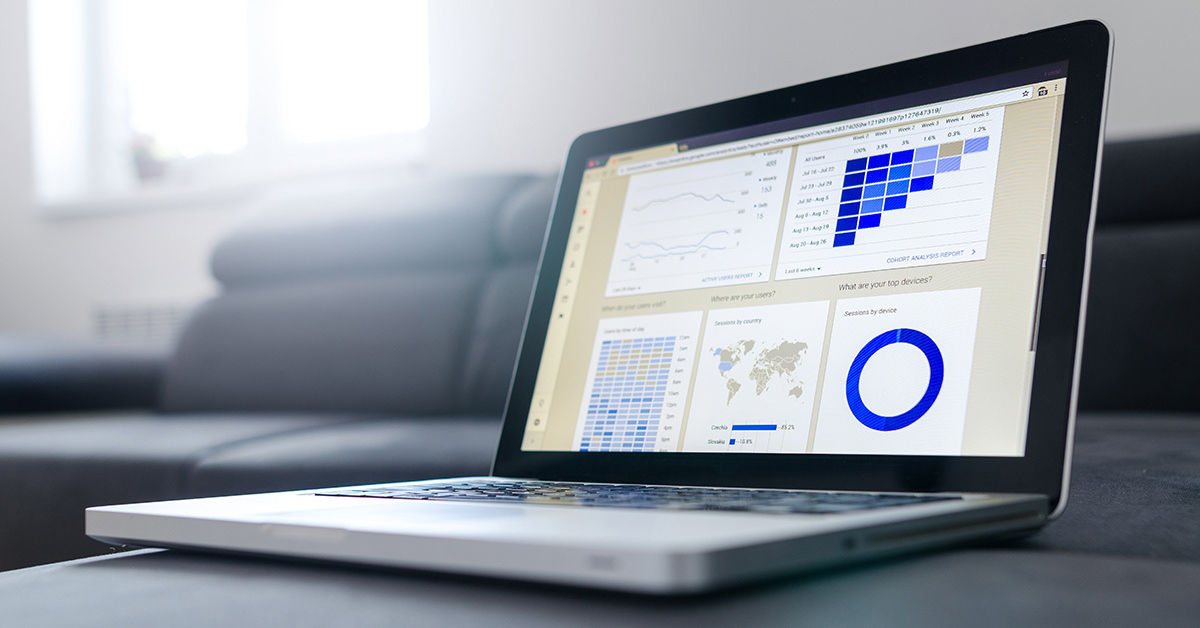 Create a deeper understanding of the details of your website and its performance with Google Analytics which is the tool you need.
You're trying to build a website that adheres to the latest version of the Google algorithm to make sure you can rank near the to of the Search Engine Results Pages, it only makes sense that you use a tool made to analyze your site and give you the information needed to improve your site.
Use Tools Focused on the Customer
The audience you want to reach will appreciate that you've implemented tools that have them in mind, even if they don't know about it. Using Google Analytics will help you focus on the user and create a website experience that will keep them engaged with you and what you have to offer. Here are some great ways you can make use of this tool and make your website better.
1. Make the Most of User-Focused Reporting
The standard reporting dashboard has been adapted to place user metrics at the forefront when reviewing the behavior of users on your website. You'll find this reporting by going to Admin > Property Settings > Enable Users in Reporting. This is an excellent shift from the historical focus that was presented in the past. With this information, you can quickly make changes that will engage your potential customers.
2. Google Analytics Includes Audiences in Reporting
The option of creating audiences within the Google Analytics tool can make a huge difference to your reporting and the amount of time you spend trying to understand the audience you're reaching. Set the audiences as a primary and explore how they use your site and engage with you. Previously, we were only able to activate audiences and publish them on Google platforms such as AdWords and DoubleClick, but now you can monitor the interactions of a group.
3. Lifetime Metrics and Dimensions
Using the Lifetime Metrics and Dimensions feature of this tool, you can isolate user behavior down to the session-level. This allows you to view the cookie of the user, which gives you good information as long as they haven't deleted their cookies recently. You'll have a detailed holistic overview of an individual user to see what you want and understand how you can maximize the value of these insights.
4. Understand Your Audience Better with Demographics and Interests
When you want to engage more with the journey of your users, you'll want to activate the audience demographics feature and see more information. Your Google Analytics reports can show you age, gender, and interest categories to help you shape your ongoing marketing activities that might need to be updated and improved.
5. Behavior Flow Shows How Users Interact with Your Website
Go to Behavior > Behavior Flow and see how users interact with your website via this report. You can visualize the path they take from one page to the next and even understand what on your page might have turned them to moving to the next page to see what else you offer. This can help you figure out what content to offer next and continue to provide the information they desire.
6. Frequency and Recency in Your Google Analytics
How many times and how often do users visit your website? You can find this out when you use the Frequency & Recency tab and add it to the reports you receive. This gives you an idea of the habits of your users and what they want to see when they are online. It could give you an idea of how often you should have new content added.
7. Real-Time Data; An Excellent Tool
One of the most invaluable resources within Google Analytics is the real-time data and what your users are doing and seeing while online. This is extremely helpful when launching a new website, design, or landing page. Add this to your dashboard and know what's going on when users are online.
8. New vs. Returning Visitors in Google Analytics
What content on your site encourages users to return to your website? What pages are there to bring in new traffic? This information is important to how you build your site and the information you offer when doing so. You don't want to spend too much time trying to figure this out, which is what the New vs Returning users tab can do to offer you the information you want. Make sure this is part of your Google Analytics tools to see what each type of user is viewing on your site.
The use of Google Analytics can help you understand your user, the Google algorithm, and the information you need to include to ensure your website is what your users want to visit. This tool will help you build pages and include information that attracts the demographic and viewers you're looking for.
This post may contain affiliate links. Meaning a commission is given should you decide to make a purchase through these links, at no cost to you. All products shown are researched and tested to give an accurate review for you.