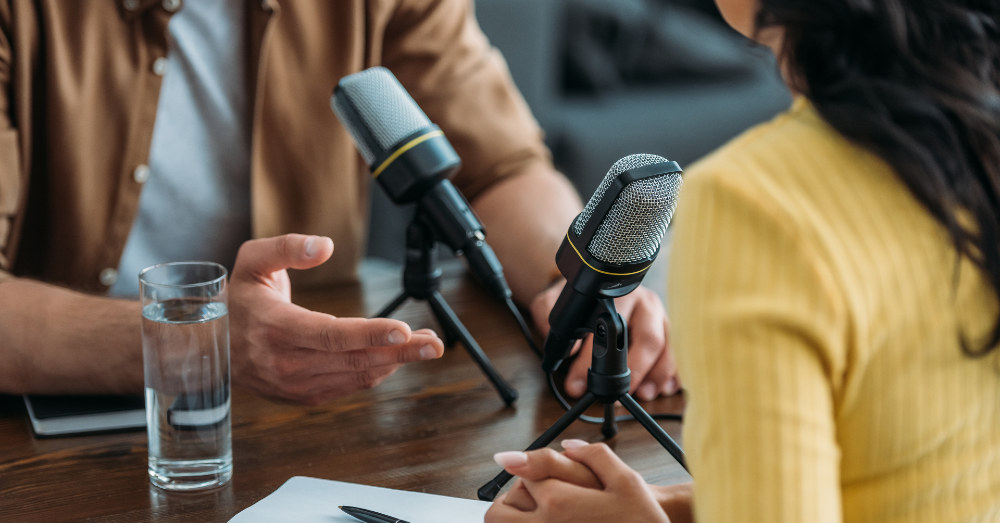 Many radio talk shows have gone away and have been replaced by a new format called a podcast. Your business can benefit from this new format.
While you might not have the same audience as the various shows on ESPN, you can gain a following and offer a regular talk show format to discuss your industry and your business.
People are Tuning in to Build a Relationship with You
Sit down for a few minutes and talk about old-time radio shows that told stories and entertained all ages. Take that product and transform it to the modern world and you have the use of digital media to reach an audience. Many people love to listen to something while running errands and the sound of your voice can begin to build a relationship with members of your audience.
Showcase Your Brand Through Your Talk Show
Traditional marketing has all but gone away and has been replaced with more dynamic means of communication. If you offer a podcast to a captive audience, there's nothing stopping you from communicating your brand and the benefits you offer. This can be worked into the industry insights, tips, and experiences you want to share with those who are on the other end of your broadcast.
Setting Up a Podcast Can be Relatively Cheap
You don't need an entire sound studio to have a show that listeners will tune into. What you need area strong voice and a smart message. You'll need some software, which can be downloaded, a microphone, and a set of headphones. Once you set up an account on one of the services that support broadcasting voice media, you'll be on your way.
You'll Personally Benefit
Creating a show that you broadcast weekly, monthly, or quarterly for an audience to enjoy, can improve your public speaking skills. This will certainly be true if you invite comments and criticism as part of how your audience can engage with you. The more often you present a podcast to your listeners, the more comfortable you'll become with the format and how you can share your message with those that tune in and listen.
Voice is an Excellent Alternative to Video
Can you watch videos while driving your car? You shouldn't because your eyes are supposed to be on the road. Even though you can't watch videos, you can listen to a broadcast that is delivered in a talk show format. As a business owner, you can present your podcast to your audience as an alternative link to your blogs rather than using videos. This can mix things up and give your listeners a great way to tune in during their daily commute.
Your Business Will Rank Higher on Search Engines
One of the most important benefits to your business, when you offer a podcast to those who see your content, is a higher ranking on Search Engine Results Pages. Your broadcast can be optimized with the keywords for a specific page and help your page reach the top of the page and be seen by more people.
A Personal Connection can be Established
Do you have specific talk shows you like to watch or listen to? When you're in the car do you tune into celebrities that you connect with? This can be the same for your podcast. Reach out to your customers and connect with them by offering solutions to challenges they face every day, offering your feeling on topics in your industry, and being a welcome voice that your audience can enjoy listening to.
A Podcast Could Become an Additional Income Stream
When your podcast reaches a large enough following, some advertisers will pay for you to read their ads on-air. This might be attractive to you and help you bring more money into your company, or you may want to keep your broadcast simple and only share your message. This option could be a great way for you to have the flexibility you desire.
You'll Build Authority With Your Message
Giving people an additional way to consume your content and understand the feeling behind your message with your voice can give you the authority you desire in your industry. Show your passion, how much you care, and that you know what you're talking about when you share your podcast with your audience. It's time to let your voice be heard and to give your audience another great way to connect with your company.
This post may contain affiliate links. Meaning a commission is given should you decide to make a purchase through these links, at no cost to you. All products shown are researched and tested to give an accurate review for you.