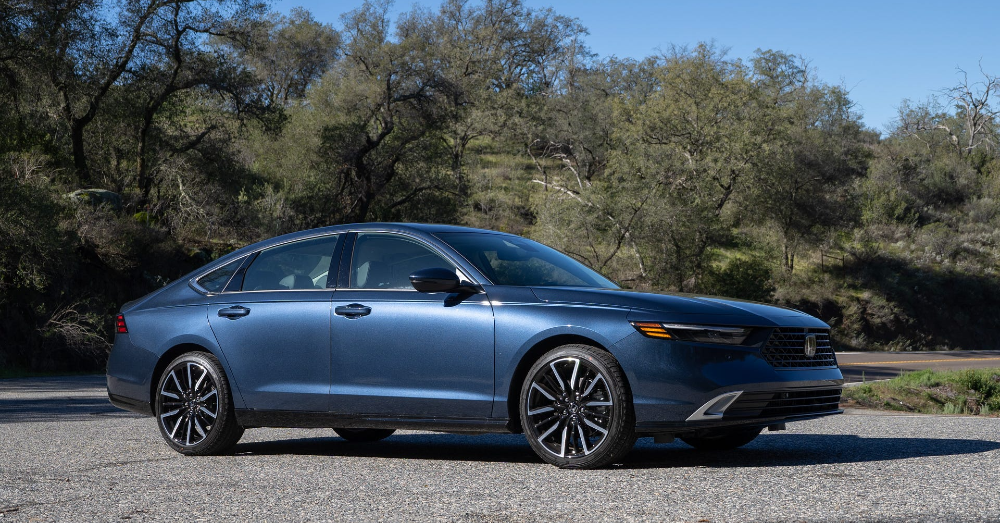 What are the top hybrid cars for 2023? These vehicles offer good value, impressive driving manners, and excellent fuel mileage.
Hybrid vehicles have come a long way since the early days of the first Honda Insight and Toyota Prius modes hit the streets. The Prius was the most popular at the time, with its wedge shape and excellent fuel mileage. Although EVs are becoming more popular and common than ever before, hybrid cars still have a stronghold in the market when it comes to amazing fuel mileage numbers compared to regular gas-powered vehicles.
These are the top three hybrid cars from 2023, according to U.S. News & World Report.
Toyota Camry Hybrid
The Toyota Camry Hybrid is rated third on the US News list of hybrid cars. This compelling hybrid take on a family favorite is an excellent choice when looking for the right blend of practicality, value, and performance, The Camry hybrid brings excellent fuel mileage figures at 44 city/53 hwy mpg and good power with a system that delivers 208 horsepower.
Pros
Excellent fuel economy
Spacious, well-built cabin
Smooth ride
Lots of standard features
Cons
Dated infotainment system
Regenerative brakes take some getting used to
Powertrain drones under hard acceleration
The Camry Hybrid is a top hybrid car for 2023, with a roomy cabin that's comfortable for five people regardless of where they sit in this car. The driving dynamics are what you expect for a family car, and the hybrid powertrain delivers good fuel mileage and a boost of acceleration when you want to get out in front of the rest of the traffic on the road. This car is a solid choice, offering the features and space you want to go along with the incredible Toyota reputation of reliability.
Hyundai Sonata Hybrid
One of the top hybrid cars of 2023 is the Hyundai Sonata. In fact, it's tied for the top spot with our next model in the US News list. The Sonata is a standout sedan in its class, offering fantastic fuel economy, spacious seating, and an upscale cabin. If you're looking for sporty driving, you won't find it in the Sonata Hybrid, but you will enjoy up to 45 city/54 hwy mpg and 192 horsepower in this impressive sedan.
Pros
Solid fuel economy
Relaxed ride
Many standard and available features
High-end interior
Cons
The 2023 Hyundai Sonata Hybrid is one of the most impressive hybrid cars you'll find. This car gives you much more than what you might expect from any green vehicle. This Hyundai provides great fuel mileage, impressive comfort, and tons of features. The straightforward infotainment system is easy to use and makes driving a pleasure. The Sonata Hybrid accelerates quickly and perfectly without any fuss. The regenerative brakes grab on and send power to the hybrid motor easily. If you're looking for a great choice and a hybrid sedan, the Sonata delivers the goods with a long list of standard features at an affordable price.
Honda Accord Hybrid
Honda improved the Accord Hybrid for 2023, making it to the top of the list as one of the top hybrid cars for 2023. This useful and enjoyable hybrid version of the Honda Accord brings a spacious and upscale cabin to your drive while offering a sporty midsize sedan that is attractive and filled with great tech features. The refined handling makes it easy to forget you're driving a hybrid car that offers up to 51 city/44 hwy mpg and 204 horsepower. The Accord Hybrid ties with the Sonata Hybrid at the top of the hybrid cars from US News.
Pros
Roomy, high-end interior
Intuitive tech features
Well-mannered hybrid system
Refined ride and handling
Cons
Higher starting price than some rivals
Touchy brake pedal
The new Hybrid Accord has an excellent cabin that make for comfort and an athletic build to turn some heads. This midsize sedan approaches luxury-grade comfort with its style and sleek build. The user-friendly infotainment system makes this one of the best choices in the hybrid market. You'll also enjoy the large trunk and long list of standard features that add to the appeal of this impressive car.
Which of these three hybrid cars will you drive? Are you looking for the stellar reliability of the Camry, the long list of standard features of the Sonata, or the sporty styling and upgraded cabin of the Accord. These are three of the top hybrid cars for 2023, giving us some excellent choices for a fantastic drive.
This post may contain affiliate links. Meaning a commission is given should you decide to make a purchase through these links, at no cost to you. All products shown are researched and tested to give an accurate review for you.