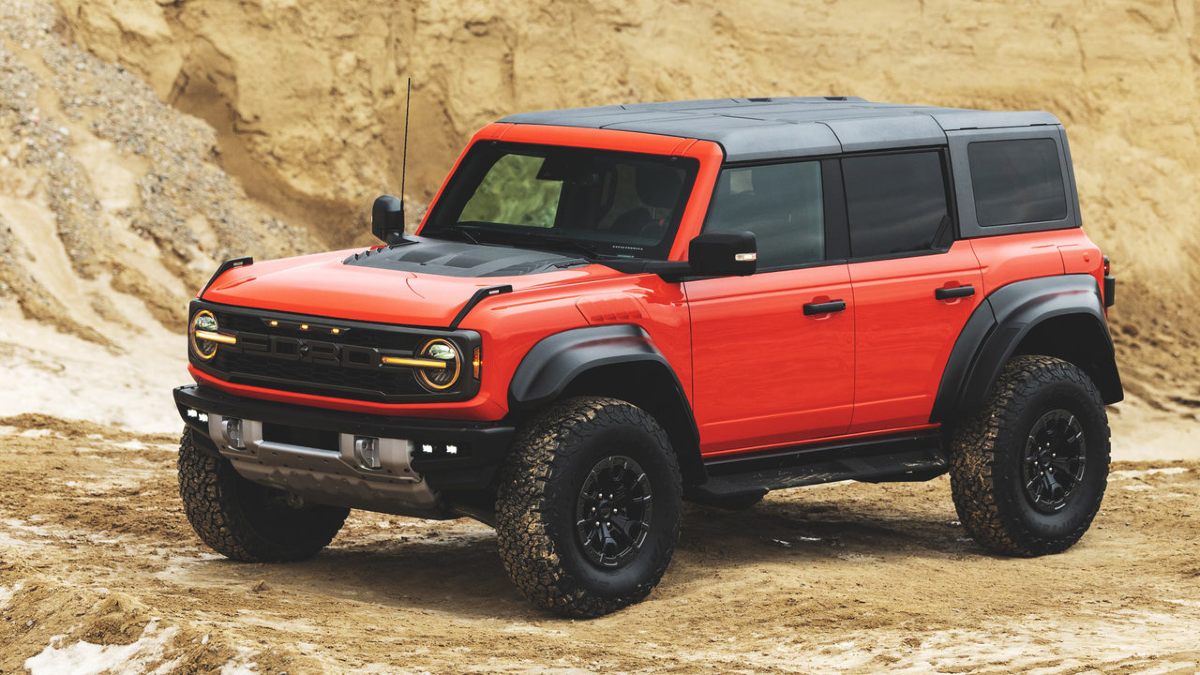 The Ford Bronco is one of the fastest-selling off-road SUVs ever found. This SUV sells so well that Ford halted production a few times.
Unfortunately, when a vehicle sells as fast and as well as the Bronco, there are bound to be some issues with some parts of the car. Some owners have reported troubles with the 2.7-liter V6 engine, which can be more than just a little problematic. When a problem is found in a vehicle, that problem is easily fixable, but that's not the case with the Bronco.
Why Isn't the Fix a Simple One?
The 2.7-liter V6 engine is the upgrade from the base engine for the Bronco. If you happen to have one of the versions that has trouble with this engine, you'll have a challenge. This challenge is that you need to have the engine completely swapped out to fix the issue. Complaints about the problem, which causes these SUVs to fail unexpectedly, date back to July of last year. The number of engines facing this issue has only grown since that time. This engine failure issue occurs due to a dropped valve, requiring a complete replacement.
An Unknown Cause of Trouble
Usually, if an engine has a dropped valve, it happens because the valve retainer fails. The Ford Bronco with the 2.7-liter V6 engine hasn't shown the secrets to the problem yet. A dropped valve can cause extensive damage to the engine and its parts. This engine problem has sown itself while the vehicle is driving down the road, which can cause some severe issues. This sudden and complete failure continues to show itself in several SUV models.
What Can Owners of these Ford SUVs Do?
Thus far, 27 engine failure complaints have been filed with the NHTSA. While that number seems small, the fact that these engines fail while out on the road is extremely dangerous and frustrating for owners. Sure, every model is covered under the manufacturer's warranty, but that isn't enough to fix the delays, inconvenience, and frustration owners have with these Bronco models. As more complaints come in, Ford may be forced to issue a recall for these 2.7-liter V6 engines that must be replaced to fix the problem.
What Can You Do to Avoid this Problem?
You certainly want to avoid the troubles of engine failure while you're out on the road. Because this problem impacts the Ford Bronco models with the 2.7-liter twin-turbocharged V6 engine, you have a couple of options. If you want to drive this SUV and you haven't bought your new model yet, the best thing to do is select a model with a different engine under the hood. Doing this will help you avoid the challenges of the failing V6 and give you one of the other two engines offered for this SUV.
What Other Engines Are Offered in the Bronco?
The base powertrain offered for this Ford SUV is a 2.3-liter turbocharged four-cylinder engine attached to either a seven-speed manual or ten-speed automatic transmission. You'll enjoy 275 horsepower and 315 lb.-ft. of torque. Enjoy up to 20 city/21 hwy mpg when you get behind the wheel of this SUV.
The top powertrain is only found in the Bronco Raptor. This powertrain gives you a 3.0-liter twin-turbocharged V6 engine mated to a ten-speed automatic transmission. You'll enjoy 400 horsepower and 450 lb.-ft. of torque during your drive. This added power does deplete the fuel economy a bit to give you 15 city/16 hwy mpg.
What Will You Find in the Lower Trims of the Bronco?
The base model of the Ford Bronco gives you:
16-inch steel wheels
LED headlights
Keyless entry/ignition
Remote start/lock/unlock
Cloth upholstery
Power windows
Tow hooks
Single-zone air conditioning
8-inch touchscreen
Wireless Apple CarPlay/Android Auto
Wi-Fi hotspot
Satellite radio
Two USB-A ports
Two USB-C ports
Six speakers
Forward-collision warning
Automatic emergency braking
Pedestrian detection
Hill-start assist
Automatic high beams
Moving up to the Big Bend model, you'll find:
17-inch alloy wheels
LED fog lights
Leather-wrapped steering wheel
Mud/Rates setting for the terrain management system
Going to the Black Diamond trim, this SUV offers:
Heavy-duty powder-coated bumpers
Underbody bash plates
17-inch steel wheels with 32-inch all-terrain tires
Vinyl seating
Rubberized flooring
Drain plugs
Auxiliary switches
Rock Crawl mode for the terrain management system
Moving into the Outer Banks model, you'll find:
10-speed automatic transmission
Heated/cloth-covered front seats
Dual-zone automatic climate controls
Self-dimming rearview mirror
Blind-spot monitoring
Rear cross-traffic alerts
110-volt outlet
Rear parking sensors
Navigation system
18-inch alloy wheels
Choose the Badlands model and enjoy:
Vinyl seating
Rubberized flooring
Drain plugs
Heavier-duty suspension
Disconnecting front anti-roll bar
Baja mode for the terrain management system
Add the Sasquatch Package to the Ford Bronco
Once you have the Bronco with the right engine, you can add the benefits of the Sasquatch Package, which gives you more hardcore off-road features for your fun on the trails. This package provides 17-inch Beadlock-capable alloy wheels shod in 35-inch all-terrain tires. This SUV also has locking front/rear differentials, high-clearance fender flares, and a set of Bilstein shocks. You'll also have the benefits of the Trail Control model for the automatic suspension, but it can be used with the manual transmission version of the Bronco.
Will you Buy a Bronco or Wait?
With the auto market in a severe state of flux and one version of the Bronco coming with an engine you might not trust, will you choose one of the other versions or not? The Raptor model is the hardcore, top-end performer that can take you everywhere, but you'll find more trims with the base model to give you a more pleasant and understandable daily drive. It's a tough decision and one you can only make by seeing what your local Ford dealer has to offer with the Bronco.
This post may contain affiliate links. Meaning a commission is given should you decide to make a purchase through these links, at no cost to you. All products shown are researched and tested to give an accurate review for you.