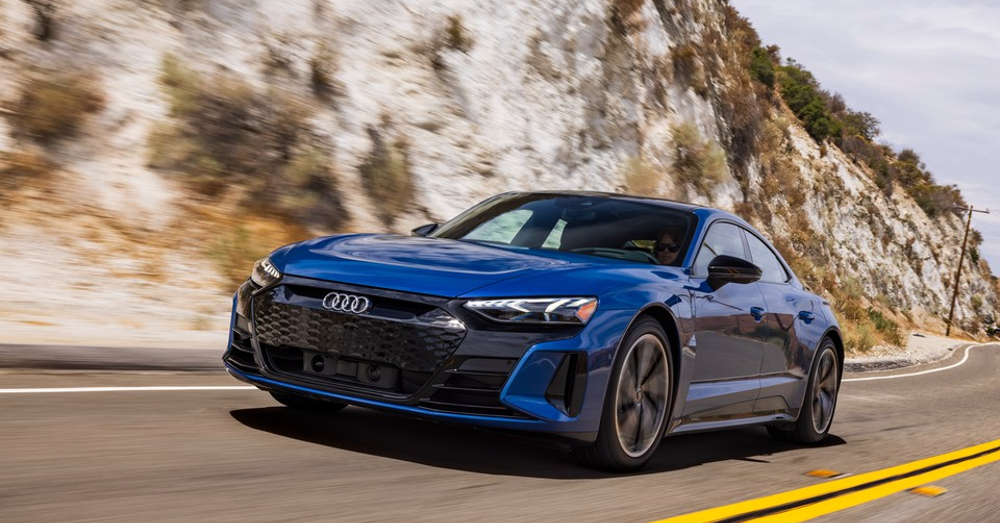 An abundance of electric luxury is found in the 2023 Audi e-Tron GT. This amazing four-door luxury EV brings the posh Audi features and qualities to your drive.
The e-Tron GT reaches as close to supercar status as we can expect from this brand. The driving range is less than stellar at 236 miles, but it still offers the power and performance desired when you're ready to head out for an incredible drive. Let's dive in and see what this Audi electric performance car offers to give you an exciting ride and lots of fun wherever you go.
The e-Tron GT could be classified as an electric supercar
How much power does a car need to be classified as a supercar? This new Audi EV brings 522 horsepower to the mix, which could be enough. Maybe we find the supercar status in the sprint time. The e-Tron hits 60 mph in 3.9 seconds, which is impressive. This Audi can finish a quarter mile in 11.9 seconds while heading to the electronically limited speed of 152 mph. As expected, Audi includes Quattro AWD technology in the e-Tron to give this amazing EV the grip and drive desired.
Shh, this Audi is similar to the Porsche Taycan
Porsche and Audi are both part of the Volkswagen Group. Its not at all unusual for several brands from this group to share parts, technology, and qualities. This means the Taycan and e-Tron GT share the same platform. Although different on the outside, these two cars are nearly identical beneath the skin. The J1 platform was first offered in the Taycan, giving it the low ride height and performance offered to make this Audi fast and impressive.
Tech makes this Audi more interesting
Audi has been a leader in automotive technology for many years. The Audi Connect Infotainment system is considered the best in its class, appearing on an angular digital display. The infotainment screen measures 10.1 inches and offers the entertainment and functionality desired. As expected, you'll find an attractive head-up display, a full package of active safety features, and the Audi Virtual Cockpit, which brings you an attractive display in the digital gauge cluster. You'll find various trim-specific tech items in this sporty Audi, giving you the modern feeling desired.
Don't expect to use the e-Tron GT for your carpool
There are four doors and a rear seat in the Audi e-Tron GT, but that rear seat is only good for the two outboard passengers. The middle seat isn't good for a passenger. If you're looking at this sporty Audi to be a family-sized vehicle, you'll be a bit disappointed. Of course, this is the perfect vehicle for four people to have a wonderful night on the town. Everyone will turn and look as you pull up in this incredible Audi sports car.
Go for more power in the RS version
If the power of the standard e-Tron GT isn't enough for you, there's a more powerful version. The RS model delivers 636 horsepower for some "oh, my God" driving experiences. You'll love the 616 lb-ft of torque, which instantly snap your neck when you hit the accelerator in this EV. The top speed is still limited, but that limit is 155 mph. The sprint time is a full second faster at 2.9 seconds for you to reach 60 mph.
Comfort is a big part of this Audi
For years, Audi has been toeing the line between performance and comfort. This continues with the new Audi e-Tron GT. You'll find a cabin filled with items you want, including heated front seats with heated rear seats as optional in this Audi. Every model comes with a Bang & Olufsen premium sound system and leather upholstery with aluminum trimming. If you go for the RS model, you'll find carbon fiber inlays, making this Audi sports car look and feel more impressive.
A unique transmission setup
The e-Tron GT is an impressive sports car with a singular transmission layout. All power is delivered to the wheels via an electric motor on each axle. The front motor uses a single-speed direct-drive transmission, while the rear motor utilizes a two-speed gearbox. This amazing setup allows the e-Tron to accelerate quickly and maintain high speeds for a long time. This unique transmission layout could be seen in future EV models from various vehicles coming out of the Volkswagen Group family of automotive brands.
The new 2023 Audi e-Tron GT is an electric performance machine ready to take you wherever you want to go. That is, of course, unless you'd rather drive the Audi RS e-Tron GT.
This post may contain affiliate links. Meaning a commission is given should you decide to make a purchase through these links, at no cost to you. All products shown are researched and tested to give an accurate review for you.