Too many people think that a hatchback like the Hyundai Elantra GT is too small or not cool enough to fit their needs. While older hatchbacks may have lacked the style and practicality for the modern driver, today's hatchbacks offer a ton of advanced features and modern benefits to keep anyone happy.
Here are six reasons why you should consider making a hatchback your next car
1. They're Larger Than They Appear
It's common to think that hatchbacks are just another version of a small car. The reality is that these vehicles are full of room. Of course, they offer plenty of cargo space. The Hyundai Elantra GT offers 24.9 cubic feet of storage behind the rear seats. When those seats are folded into their own position, you get a total of 55.1 cubic feet of space. Beyond cargo room, every passenger will enjoy spacious leg and headroom.
2. They Make City Driving Easy
If you find yourself cruising through the city, a large car may not do the trick. They can be hard to maneuver during rush hour, not to mention tight parallel parking spots. Hatchbacks offer the kind of space and comfort you find in larger sedans but with a smaller footprint. The nearly flat back also makes parking a breeze.
3. Lower Insurance Costs
While it's not a hard rule in every case, it's often true that the larger the car, the more expensive it is to ensure. Even if the larger vehicle has a smaller price tag, the monthly cost of insurance will soon make up the difference. Hatchbacks are smaller and come with more affordable parts, which means your insurance prices will come down.
4. They're Great for Growing Families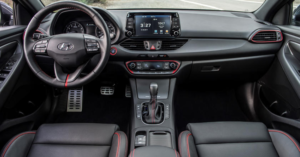 If you're packing a family the size of a little league team, you probably won't count on a hatchback to take the entire squad out for ice cream after the big game. If, however, you're only toting a couple of little ones, a hatchback is a perfect option. Not only is there plenty of room for your favorite car seats, but the rear storage space can also handle a stroller, wagon, or a plethora of toys.
5. Tech-Heads Unite
If you're someone who loves technology, hatchbacks will not disappoint. You'll find the latest and greatest infotainment, driver-assist, and fuel efficiency tech available. The Hyundai Elantra GT, for example, has a special Tech Package upgrade that comes with the following:
•Eight-inch color touchscreen
•Built-in navigation
•Power driver's seat
•Ventilated seats
•Infinity audio system with seven speakers
•Forward collision avoidance with pedestrian detection
•Lane-keeping assist
•Adaptive cruise control with stop-and-go
•Three years of complimentary Blue Link connected car service
6. They Have High-Performance Models
If you really want to impress your neighbors with a sporty hatchback, you're in luck. Many of these spacious cars come with premium additions that get a sportier look, improved suspension, and upgraded tires. Check out the Hyundai Elantra GT N Line model to get a perfect mixture of practicality, power, and price. Regardless of which features matter most to you, modern hatchbacks offer a little something for everyone. Start your search at your local Hyundai dealership, and be prepared to never go back to regular sedans again.
This post may contain affiliate links. Meaning a commission is given should you decide to make a purchase through these links, at no cost to you. All products shown are researched and tested to give an accurate review for you.