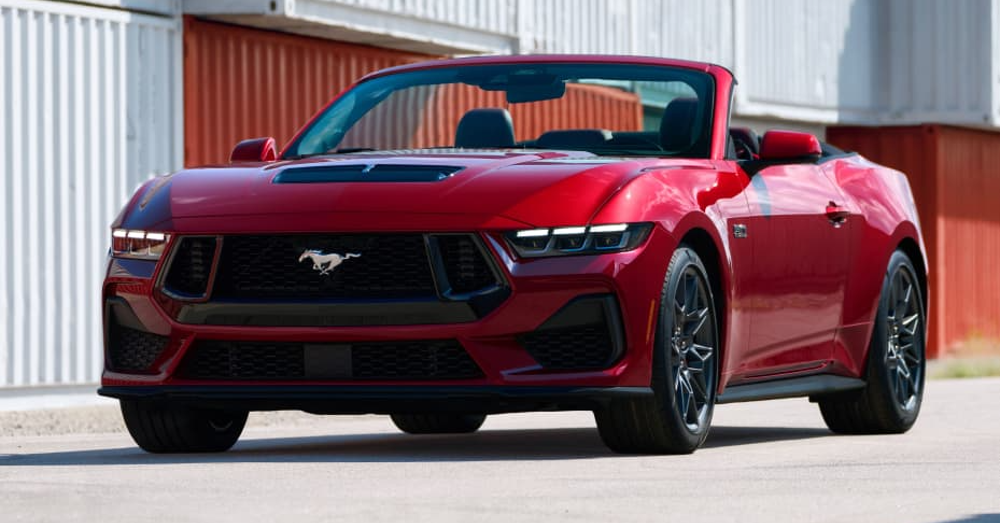 The 2024 Ford Mustang will mark 60 years as one of our favorite pony cars. This incredible muscle car came to the 1964 World's Fair and started something great.
Since that historic event, the Mustang has been one of the most iconic cars in automotive history. Now that we're in a world proliferated with electric vehicles, we have to celebrate the last of every breed that comes along. While the 2023 version will be a carryover, the 2024 Mustang could be the last generation of the gas-powered models, making it a car we need to celebrate and admire.
An Evolutionary New Appearance
The seventh generation of the Mustang will be perfectly recognizable while a bit different. This new model has a stronger edge to it than the current model, making it more attractive and muscular for our time behind the wheel. The front end is squared off, it has new headlights, and the tri-bar LED lights to give this car a modern feeling. The taillights still give us a three-bar look, but they are larger and more noticeable. The Mustang is a little wider, but the rear overhang is shorter. Overall, this car is probably the perfect Mustang build.
The Cabin Area is Tech-Forward
If you thought you were going to see a classic Ford Mustang appearance in the cabin, you'd be wrong. This new car delivers an amazing design with a more driver-focused layout. There are two impressive digital displays with a 12.4-inch information screen for the gauges and a 13.2-inch infotainment touchscreen. This new look should appeal to gamers while being attractive and modern for all Mustang shoppers. The massive glass panel across the dashboard is a departure from the classic look that we've associated with the Mustang for several years.
The Infotainment System is Modern
This next generation of the Ford muscle car will come with the latest Sync 4 infotainment system, which isn't big news. The big news is that this system brings a new package of tech to allow over-the-air updates and offer animations that should remind some drivers of the Forza Motorsport video game. New Mustang owners will enjoy customizing their system to fit their desires, making it more enjoyable to drive. Ford didn't toss all the old stuff for the cabin out the window; the instrument panel design includes some retro-styled dials that remind us of the Fox body Mustangs.
Get Comfortable in the Mustang
Some of the previous versions of this muscle car have felt like Ford forgot that people wanted comfortable materials on the seats. The Ford Mustang has always been a relatively roomy muscle car, but this new generation brings updated materials to make this car more enjoyable. The dash and doors can be wrapped in leather or carbon-weave items to bring an upscale and modern look to the drive. This new style for the materials makes this car look a lot more impressive and gives us an amazing way to enjoy what could be the last of the gas-powered Mustangs.
Same Engines With Upgraded Tech
The 5.0-liter V8 engine of the Mustang has been one of the most iconic ever made. This Coyote engine continued to be part of the next generation of this car, but it brings better packaging and more power. Ford adds more airflow to increase the power, but they won't release the exact numbers yet. We think it should reach close to 500 horsepower, which would be wonderful. This car still brings the option of either a six-speed manual or ten-speed automatic transmission to give you the drive and shifting desired.
If you're not looking for the Coyote engine, you can have a Ford Mustang with the 2.3-liter EcoBoost engine in the next generation. This base engine continues to offer an excellent way to drive and make your car perform. The current version of this engine makes 330 horsepower and 350 lb-ft of torque; we expect to see more power resulting from the new fuel delivery and ignition systems added to this engine. The EcoBoost engine only comes with the 10-speed automatic transmission, but that's expected for this base model. Very few drivers that chose the EcoBoost also selected the manual transmission during the current generation.
An Entertaining New Feature
Are you sitting in a café and seeing someone walking up to your Mustang? Before they touch it, you can entertain yourself and watch their reaction with the Remote Rev feature. Yet, it's a little juvenile to remotely rev the engine of your car and make loud noises, but isn't a little immaturity part of the fun of a muscle car? The Remote Rev feature uses its own pre-programmed sound and is packaged with any Mustang that has an active exhaust system. Unfortunately, if you choose the manual transmission, you won't get this feature.
A New Drift Stick Adds to the Fun
If you want to tear up an empty parking lot, Ford gives you a way to do it. Maybe, you should take your fun to a track that's made for drifting, but the new "Drift Stick" feature allows you to enjoy the drifting function of the new Ford Mustang. This feature looks like a regular e-brake lever, but when the drift mode is activated, it locks up the rear wheels with up to five times more force than a regular parking brake. This is a cool feature that could make it more fun for you to drift around on the track or show off in a parking lot.
Add More Performance to Your New Mustang
The Performance Package delivers some of the features you want when you're looking for a Mustang packaged with some incredible features. This package can be added to the EcoBoost or GT models. It offers you added bracing, a larger radiator and cooling fan, larger front and rear brakes, a Torsen limited-slip differential, thicker anti-roll bars, and wider rear wheels and tires. Choosing the Performance Package also brings in a set of Pirelli P Zero PZ4 summer tires. The final touches to bring more performance to this package are the addition of brake ducts and an auxiliary engine oil cooler.
The Performance Package adds some items to the cabin as well. You'll find optional Recaro front seats to give you a sporty look you want. This car rides on a set of MagneRide adaptive dampers and includes Active Pothole Mitigation. The Pothole Mitigation can help in areas where potholes are found throughout the winter months.
Are you ready to drive the newest and possibly last generation of the gas-powered Ford Mustang? This new muscle car should be on sale next summer and give us a wonderful way to celebrate 60 years of Mustang glory.
This post may contain affiliate links. Meaning a commission is given should you decide to make a purchase through these links, at no cost to you. All products shown are researched and tested to give an accurate review for you.